The Fisherman: Fishing Planet Review – Reeling in the Big Ones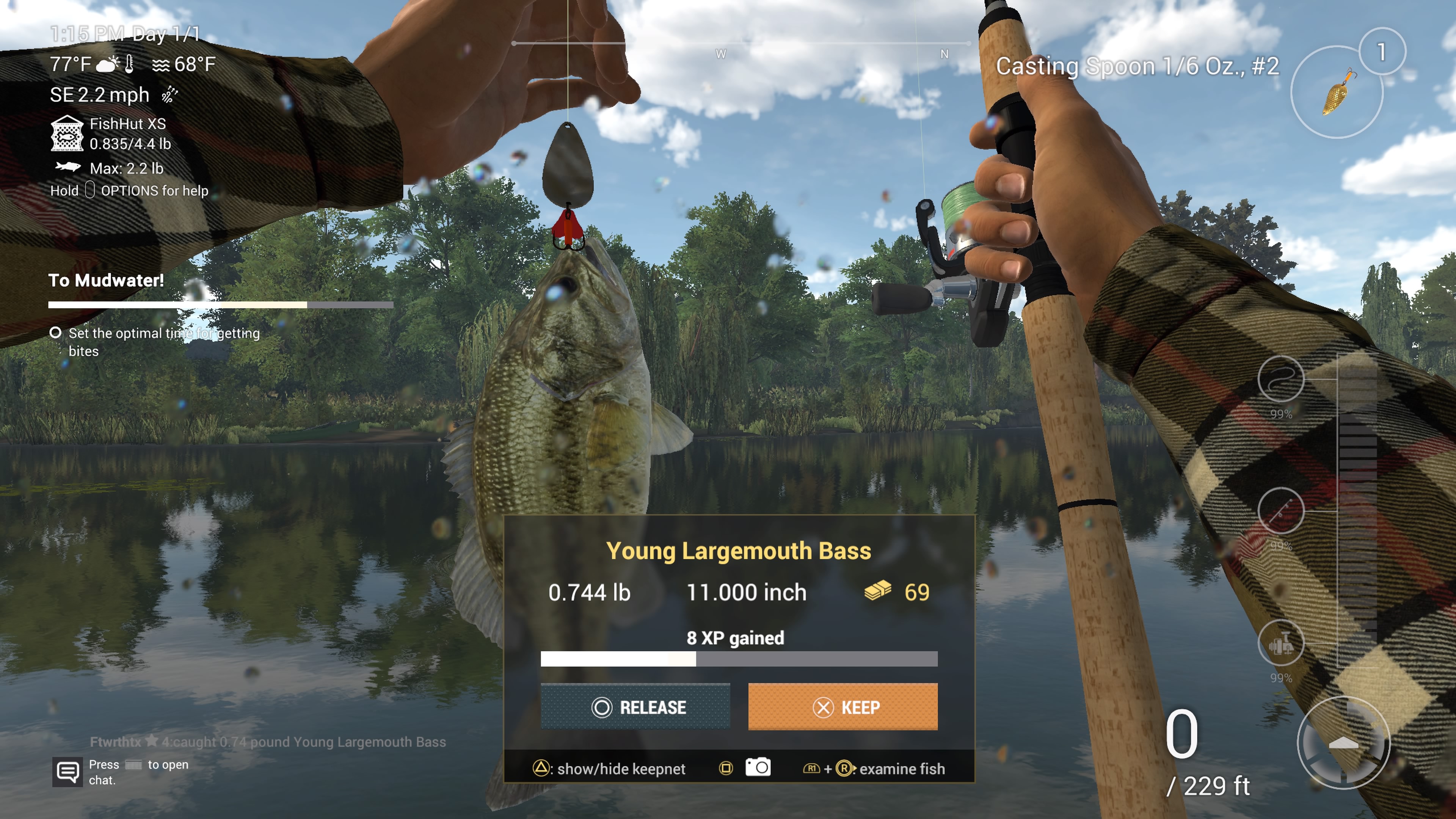 Fishing Planet LLC's and Big Ben Interactive's upcoming fishing simulator The Fisherman: Fishing Planet is set to release as an Ultimate Edition in a few days, but we have been trotting the globe and wading in to the action for a week. Is the game truly fintastic or is it just a pain in the bass?
Read on to find out.
The original release of Fishing Planet saw a free-to-play title that ended up with a huge following, with over 7 million downloads. The base game was OK, but the reel fun came with the DLC you had to purchase. Buying different packs gave you specific gear for specific locations and species of fish, but those micro-transactions would add up over time. The Fisherman: Fishing Planet includes all content created to date for Fishing Planet, and is a stand alone title that is completely separate from the original, in that no progress carries over.
Jump Right in
The game starts out with just a few locations unlocked and more locations become available as you raise your overall Fisherman Level. You'll start out on a nice little lake in northeastern Texas, fishing in the relatively shallow waters for almost a dozen different species of fish. It's the perfect little spot to run through most of the tutorials that will teach you the basics of fishing using both bait and lures. The tutorial does a very good job of taking someone who knows little about fishing, and preparing them for reeling in trophy size fish in no time.
The first location does spoil you a little bit, as it tells you exactly when to fish, and what to use to catch the specific fish you are hunting for. It teaches you how to assemble your rod and reel, what bait to use, which hooks or lures to use, as well as how to navigate the huge selection of items in the online fishing catalog. The catalog is massive and has over 1000 items you'll need in order to catch fish around the world. The store doesn't use real money, but instead uses in-game currency you'll earn through catching fish and finishing missions.
19 Locations Around the Globe
As you climb up the XP ladder, you'll eventually unlock all 19 locations and these range from lake and river environments in the Florida Everglades to the banks of the Volga River in Russia. Once you hit level 50, you'll unlock the last location in England and have access to everywhere. Climbing that ladder may take a little while, but the fun is in the fishing, so just keep casting and catching. Each location requires its own fishing license, and these generally come in basic and advanced licensing, with night fishing not always included with the basic license. Know what you are fishing for before purchasing, or you may spend more than you have to, or not spend enough.
Fishing is Fun When You Use the Correct Gear
The actual fishing for the game isn't too technical, and only requires you to follow a few simple directions in order to cast to the right spot and then hook those fish. There are quite a few different techniques to learn, but most are pretty straight forward. Every species of fish has certain types of bait or lures that prefer, and using the correct one is paramount to actually hooking what you want. If you are looking to catch a channel cat, don't expect to have much luck with a spoon geared towards trout or bass.
Timing Matters
The time and weather also matter, as they should. Luckily for us, the developer gave us a fast forward feature so we don't have to just sit there and wait for time to slowly creep by. One look at the menu and you can see which time or times are peak for fishing. You can also see which species of fish are in the body of water you are currently at, and can plan accordingly. Of course, you'll probably be able to catch fish just about anytime but don't expect to catch very many in off-peak hours. Keep in mind any limitations your license may have so you won't be caught fishing when you aren't supposed to or maybe bag a fish that isn't covered. Fines are automatically levied and subtracted, so you dodging a game warden isn't an option.
Fishing with Friends
Multiplayer for the game allows you to fish with folks on your friends list and compete in tournaments in places you have unlocked. Tournaments will have to spending a specific amount of time at a location, catching certain fish, and then weighing a set number of fish to determine the winner. You'll have to spend some of your in-game fish bucks to enter but prize money is awarded at the end of the tournament. It's a really fun way to spend a few relaxing hours fishing in some great locales.
Nature is Never Silent
Stepping onto the bank of a river or lake shouldn't include any in-game music, and lucky for us it doesn't. While the menus have some nice country music undertones to ease you along, actual fishing is as quiet as nature will let it be. The ambient sounds to the game really gave us the feel that we were out in nature, fishing at a remote location, with just the splishy splash of the fish, owls hooting, crickets chirping, and an occasional wood pecker to annoy the hell out of us. Is there a wood pecker season can we really wanted to blast that pesky bird? The sounds, coupled with the impressive graphics of the game gave us a surprisingly realistic experience that we weren't really expecting.
Developer Fishing Planet LLC has done incredible job with Fishing Planet and bringing it all together in one place with The Fisherman: Fishing Planet was a great idea. A reely great idea!
8
---
The Fisherman: Fishing Planet review code provided by publisher and reviewed on a PS4 Pro. For more information on scoring, please read What our review scores really mean.