Review – 2010 FIFA World Cup South Africa
The World Cup is the premiere sporting event in the world. No other competition allows nations as diverse as Cote D'Ivoire, Mexico, the United States, France, the Falkland Islands and Bermuda to all dream of glory. When the tournament's qualification rounds begin, every nation in the world can dream, if only for a little bit, of World Cup glory. Just making it to the World Cup is an exercise in difficulty. Qualification requires years of matches and being the best throughout. Only 32 teams in the world make it in, and when this year's World Cup begins in South Africa on June 11, the whole world will be watching as all 32 remaining nations start with the dream of winning the World Cup.
2010 FIFA World Cup South Africa wonderfully captures the beautiful game. Immediately noticeable is the beautiful design scheme, which captures the themes of this year's Cup. African motifs combine with music such as K'naan's amazing "Wavin' Flag (Celebration Mix)". But beyond that are other unique features such as profiles of different nations from around the world that highlight record World Cup wins and on the other side of the coin, record World Cup losses.
Once you get past the menu, you will notice numerous game modes, each of which are intriguing and each of which hold their own merits.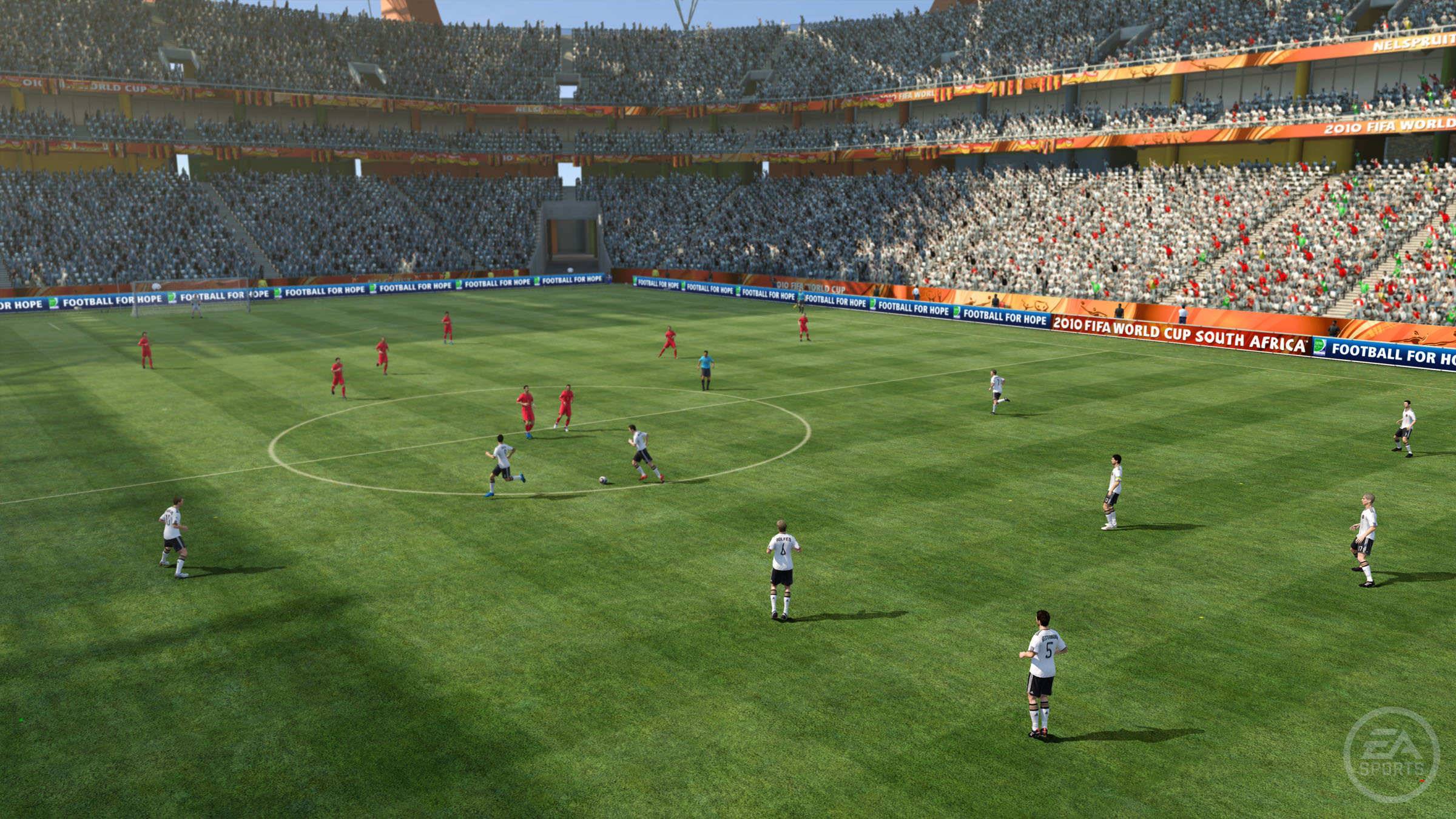 2010 FIFA World Cup mode is essentially Manager Mode with a different name. You can choose a team and then choose to work through qualification or simply begin with a World Cup field. If you do so, you can work with the current World Cup field for this year's Cup or you can make your own. Wish that Thierry Henry's handball had been caught and his goal disallowed? Put Ireland into the Cup. Want to see how badly you can crush teams like India, Bermuda, and China? Build a World Cup that includes some of the least talented teams in the world. It's all there for you.
World Cup mode is excellent because you can control lines, change formations, change who's on the team and who isn't and, in game, you can control the entire team, making a beautiful passing game work through your own genius.
Captain Your Country is Be A Pro mode for the World Cup. You can choose to play as an existing player, create your own player or even upload your own Virtual Pro from FIFA 10. In Captain Your Country you guide one player through the qualification process and into the World Cup. You fight for a ranking within the squad, hoping to gain the Captain's armband by playing strong, intelligent football. Captaining your country brings benefits – you can change formations and kick takers to your liking.
If you start as a new player you will gain experience points through performing certain goals such as "score a goal" or "be named Man of the Match." Doing so elevates your skill level from the bare-basics beginnings at 65 to, potentially uber-stardom in the 80s and 90s.
A word of warning to FIFA 10 footballers, though: Your Virtual Pro will not carry over his statistics into 2010 FIFA World Cup South Africa. Initially, this frustrated me beyond belief. I had worked so hard to create a great Virtual Pro in FIFA 10 and suddenly he stunk. He was a 65, down from an 81, and was relegated to playing right wing, which I was not accustomed to. However, after several strong matches, my pro quickly improved and I no longer cared about statistics carrying over.
I do have to say, though, that the experience system in FIFA 10 is vastly better than the experience system in 2010 FIFA World Cup South Africa. In FIFA 10 you gain experience from intelligent play, picking up rebounds and putting them in the net, performing diving headers and other such feats. It takes a lot of work to build up a great pro, but in 2010 FIFA World Cup South Africa the goals are few and you quickly can become a superstar. I suppose it makes sense for a game that follows the qualification process and takes place over the course of 30 games and a span of three years of playing, but as a FIFA fan I did miss the experience point system from FIFA 10.
Finally, and most interestingly, there is Story of Qualifying mode. Story of Qualifying puts the player into real-life scenarios from the qualification process. For instance, the CONCACAF series includes this scenario: Mexico has just had a man sent off in the 66th minute. Can you, as the US, hold on to maintain a 1-0 victory? The scenarios, which were first introduced in Madden NFL 10, offer a unique, challenging experience for gamers and is a sure-fire way to keep you coming back when you've already won the World Cup once or twice.
In addition to the game modes, the gameplay itself has been tweaked a bit. It's obvious that 2010 FIFA World Cup South Africa is a bit of a hybrid between FIFA 10 and FIFA 11. The ball seems to move a bit more organically, and more importantly, the keepers are more intelligent. They don't always run out to meet you at the edge of the penalty box, which reduces the instances of chip shot goals, which was a bit of a flaw in FIFA 10. The goals that you will produce in 2010 FIFA World Cup South Africa will feel more organic as a result. They will require smart movement, good, clean breaks, and beautiful crosses.
The game also seems to have nailed down team difficulty pretty well. Qualifying for the World Cup as the U.S., I found that teams like Trinidad and Tobago and Jamaica weren't necessarily pushovers. While they were certainly at a different level in terms of quality, they also seemed to employ tactics to limit our scoring chances and maintain possession of the ball as much as possible. Likewise, I found that playing against better teams such as Germany and England resulted in the need for a conservative game in order to keep defense tight and maintain control of the game flow. Teams felt appropriately difficult, and it resulted in some nail-biting experiences. Going into the final game of the Group Rounds at the World Cup was a nail-biter as a win or draw would send me into the next round but a loss would knock me out. I played conservatively against Greece and won 1-0. It was amazing, as was my 3-2 victory over England in the final. We shut down Wayne Rooney and scored 3 miraculously beautiful second-half goals to lift the cup.
Speaking of which, the celebration at the end of 2010 FIFA World Cup South Africa was great. Confetti hit the ground and the announcers really felt engaged in the moment. They spoke for minutes about the U.S. team's first World Cup and what it meant for America and for the sport and it really felt great. In addition, other touches constantly served to remind me of the importance of the matches. Score updates took place during the games, reminding me that I was competing not only against the opponent on the pitch, but also against opponents on other pitches for points. In between matches, News screens brought word of joy or sadness, injuries, suspensions and Man of the Match awards.
2010 FIFA World Cup South Africa is an organic, excellent football game. If you enjoy the World Cup experience and are looking to get into the mood just before the World Cup begins I can't recommend this game highly enough. It has a few flaws here and there, but they are minor at best, and when the beautiful game is played this realistically, it provides a fantastic experience.
9